Discover
Swaffham
Within easy access of Norwich, King's Lynn, Norwich and The Brecks, Swaffham is a great base from which to explore the surrounding area. Staying in Swaffham means you're never far from a great place to visit.
The town has some interesting shops, including a real greengrocers and florist, butchers, cafes, jewellers, a book shop, toy shop and several other independent retailers. Have a wander and see what you can find!
The traditional Saturday market is a great attraction and still well-attended, with all types of stalls, from fishmongers, fruit and veg, flowers, antiques and many others.
There are several 16th, 17th and 18th century buildings in the town. The most striking is the Butter Market Cross, which was built between 1781 and 1783 for The Earl of Orford. It is a circular domed roof, supported by columns and surmounted by a figure of Ceres, the Goddess of agriculture, which is so apt, for a town situated in one of the best farming areas in the country.
There are several fine 17th, 18th and 19th century buildings in Swaffham too. The 17th century King's Arms, Assembly Rooms (built 1776-8), Methodist Church (built 1813,) the George Hotel and many other fine buildings are to be found on a stroll around town.
The town Museum has many interesting exhibits.
History
The History of Swaffham
People have lived in the area for thousands of years, with Palaeolithic hand axes and many other Stone Age objects from the Neolithic period having been found here.
Sadly, no prehistoric monuments survive in the immediate area of the town, but there are many to be found in the surrounding countryside. One of the most stunning finds from the period is a late Bronze Age or Iron Age pin, which has a Ram's Head and a small dog on it. There have been several other finds which point to the importance of the area in the years up to the Roman invasion.
When the Romans arrived, one of their main roads, The Peddars' Way, passed nearby. The number of finds in the vicinity of Swaffham suggests that there was a lot of activity here during the Roman period.
It was during the Saxon period that Swaffham appears to have become a substantial, identifiable settlement. There have been a multitude of finds, including two Saxon cemeteries, brooches, tweezers, stirrup mound, pottery, amber beads and at least one coin. By the time the Doomsday Book was compiled, Swaffham was a very well established town, with one and a half mills (yes, there was half a mill attributed to Swaffham, so they probably shared one with a nearby parish), fisheries and fish-ponds and two manors valued at £16.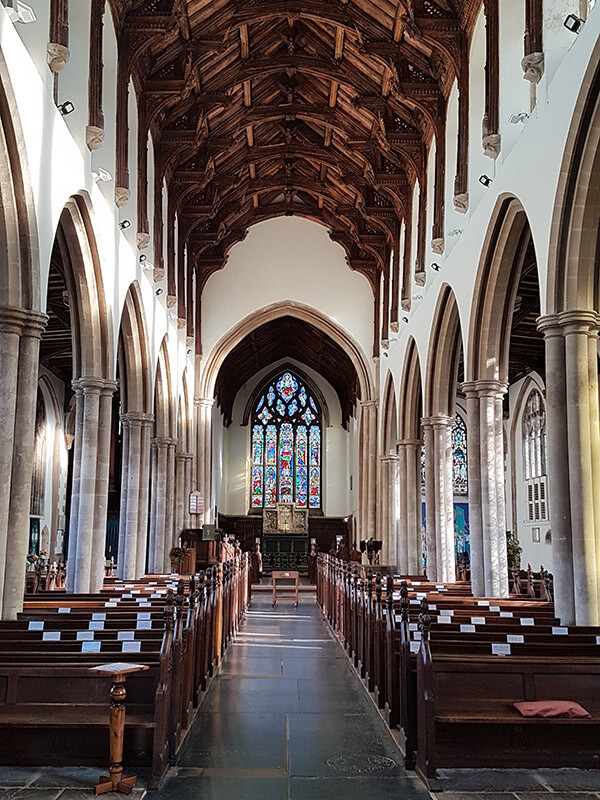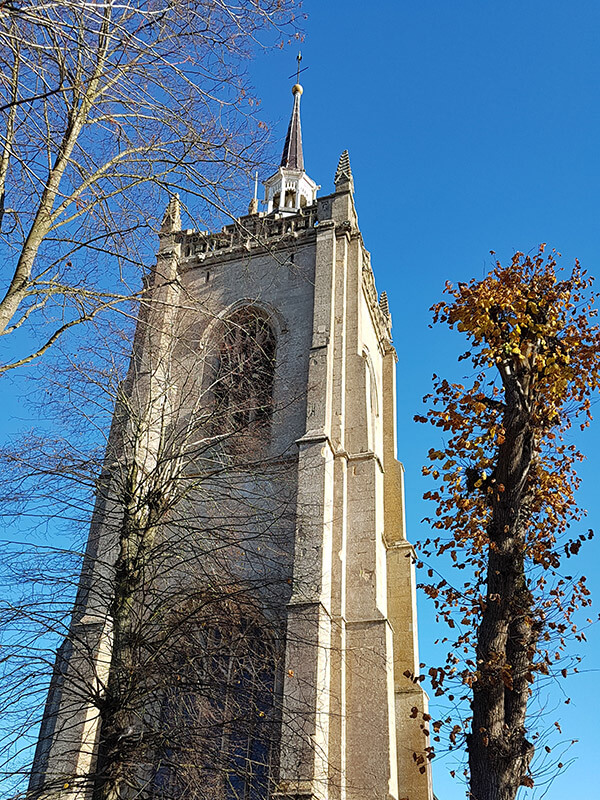 There was no church mentioned here in Saxon or early Norman times and the earliest parts of the present building date from the 13th century. But, as is common in most Medieval buildings, it has been altered and added to over the years. There was a lot of work in the 15th and 16th centuries, with the rebuilding of the Chancel in 1454, the construction of the North Aisle in 1462 and the commencement of building the Tower between 1485 and 1507.
Inside, there are some lovely stalls from the 16th century and some interesting memorials.
The famous Pedlar of Swaffham is depicted in several carvings and parts of his pew survive, showing how rich he must have been. The story is well known, but deserves to be retold below.
History
The Pedlar of Swaffham
John Chapman had a dream telling him that he should go to London Bridge to seek his fortune. He went to London, (no mean feat in those days) where he hung around London Bridge, looking for his fortune.
He was becoming rather despondent when a shopkeeper asked him what he was doing, loitering about. When John told him that he was there to seek his fortune because of a dream, the shopkeeper scoffed at him and told him that if he had taken notice of one of his own dreams, he would be in a town called Swaffham in Norfolk, digging under a tree in the garden of a Pedlar, where there would be treasure.
At this, John hurried back to Swaffham and dug under his tree, where he found a pot of gold. A second pot was discovered later and John Chapman became a very wealthy man.
Whether this story is true, we don't really know. But there was a John Chapman living in Swaffham in 1462. He was Churchwarden. He was also quite affluent, as he paid for the building of the North Aisle and South Porch. His pews, now part of Clergy Stalls, were very richly decorated.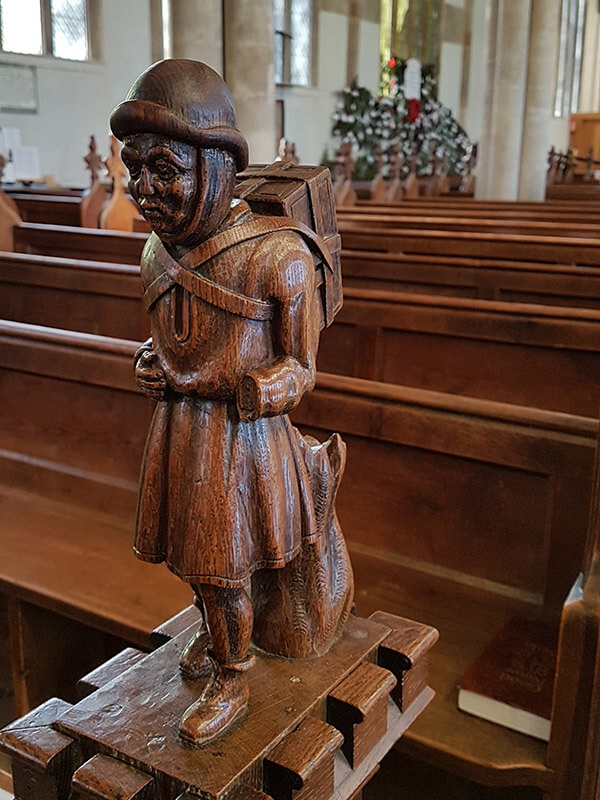 History
Swaffham's link to Tutankhamen
It was 4th November 1922 when a man from Swaffham was digging in the hot sands of Egypt. It was nearly the end of these explorations, as funding was being withdrawn, but the discovery of a step and then more steps, heralded some of the most exciting discoveries of the 20th century.
The tomb of Tutankhamen is well documented and needs no further description here. But the man who made this amazing discovery was from a well-established Swaffham family.
Howard Carter was actually born in London, but his grandparents lived in the town. His parents, Samuel and Martha, were both born in Swaffham. His father was an exceptionally good animal artist. After marriage, the couple moved to London, where Samuel exhibited and also worked for the Illustrated London News.
Howard's paternal grandfather was a gamekeeper and his maternal grandfather was a builder. Howard often visited his Norfolk family, so would have been very familiar with the town you can visit today.