Discover
Swaffham
Within easy access of Norwich, King's Lynn, Norwich and The Brecks, Swaffham is a great base from which to explore the surrounding area. Staying in Swaffham means you're never far from a great place to visit.
Swaffham Town is managed by Swaffham Town Council and the town has some interesting shops, including a real greengrocers and florist, butchers, cafes, jewellers, a book shop, toy shop and several other independent retailers. Have a wander and see what you can find! There's the Red Lion an old coaching Inn an The White Hart a popular destination for food.  Shelly's Bistro is always full of locals and visitors alike as is The Market Cross cafe where some tasty cheese scones can be had.  For a lovely Bed and Breakfast there's The Horse and Groom and for self catering cottages, you can't go wrong with Swaffham Cottages.  If its a hotel you prefer then The Strattons Hotel is the place for you.  
Swaffham Market. There has been a market in Swaffham for over 800 Years. Swaffham's family of Markets offer a wide range of goods and are a popular attraction to visit and shop for residents and visitors.  On Saturdays – there is an outdoor market and auction with around 25 regular stalls that include fresh meat, fruit & vegetables, cheeses & eggs, housewares, collectibles, jewellery, silver, clothes, hardware, tools, bric-a-brac and plants. On swaffham Market the choice of goods is extensive and attracts locals and tourists together to create a delightful buzz with the sounds, smells and colour in an atmosphere brimming with activity.
The Auction Bell rings at 11am for the general sale held on the stones outside the Swaffham Greyhound Pub. If you would like to trade on our market please find below an application form.
In Swaffham on Friday at the Assembly Rooms there is an indoor market offering mouth-watering homemade cakes, jams and pickles alongside vintage jewellery and a multitude of other bargains. On a number of occasions during the year this market rolls over to Saturday.
Swaffham Town Poultry Auction – every Saturday a poultry auction is held at the Raceway on the outskirts of Swaffham. This attracts visitors from far and wide. The is a great place to feel the buzz of buying and selling poultry. N.B The Saturday Poultry Auction at 11.30a.m and the Friday Indoor Market are licensed by the Council to independent businesses.
Swaffham Events – organised in Swaffham are often centred on the market as it is such a great way to engage the whole town and visitors, promote the town and increase community engagement.
Annual events on the Swaffham Market Place include:
Whitsun – Swaffham Sheep Fair – Norfolk Day – Dad's Army Day – Christmas Lights event
History
The History of Swaffham
The name of the town derives from the Old English Swǣfa hām = "the homestead of the Swabians"; some of them presumably came with the Angles and Saxons.  By the 14th and 15th centuries Swaffham had an emerging sheep and wool industry. As a result of this prosperity, the town has a large market place. The market cross here was built by George Walpole, 3rd Earl of Orford and presented to the town in 1783. On the top is the statue of Ceres, the Roman goddess of the harvest.
About 8 km to the north of Swaffham can be found the ruins of the formerly important Castle Acre Priory and Castle Acre Castle.People have lived in the area for thousands of years, with Palaeolithic hand axes and many other Stone Age objects from the Neolithic period having been found here.
Sadly, no prehistoric monuments survive in the immediate area of the town, but there are many to be found in the surrounding countryside. One of the most stunning finds from the period is a late Bronze Age or Iron Age pin, which has a Ram's Head and a small dog on it. There have been several other finds which point to the importance of the area in the years up to the Roman invasion.
When the Romans arrived, one of their main roads, The Peddars' Way, passed nearby. The number of finds in the vicinity of Swaffham suggests that there was a lot of activity here during the Roman period.
It was during the Saxon period that Swaffham appears to have become a substantial, identifiable settlement.
There have been a multitude of finds, including two Saxon cemeteries, brooches, tweezers, stirrup mound, pottery, amber beads and at least one coin. By the time the Doomsday Book was compiled, Swaffham was a very well established town, with one and a half mills (yes, there was half a mill attributed to Swaffham, so they probably shared one with a nearby parish), fisheries and fish-ponds and two manors valued at £16.
 Visit Swaffham Museum for more information on Swaffham and the history surrounding the town.
Both Swaffham and Watton have had some interesting historical finds and metal detecting has become a venture well worth following.  However if you are thinking of metal detecting, don't forget you need permission of the land owner.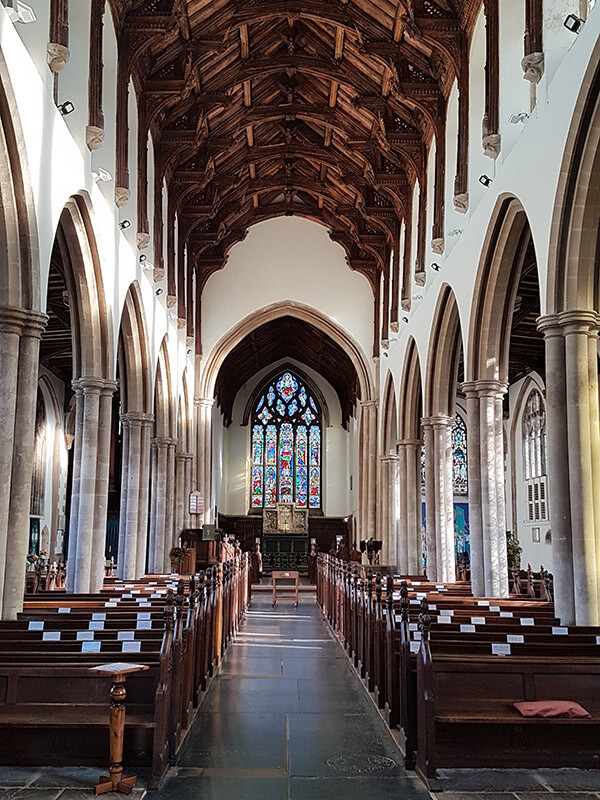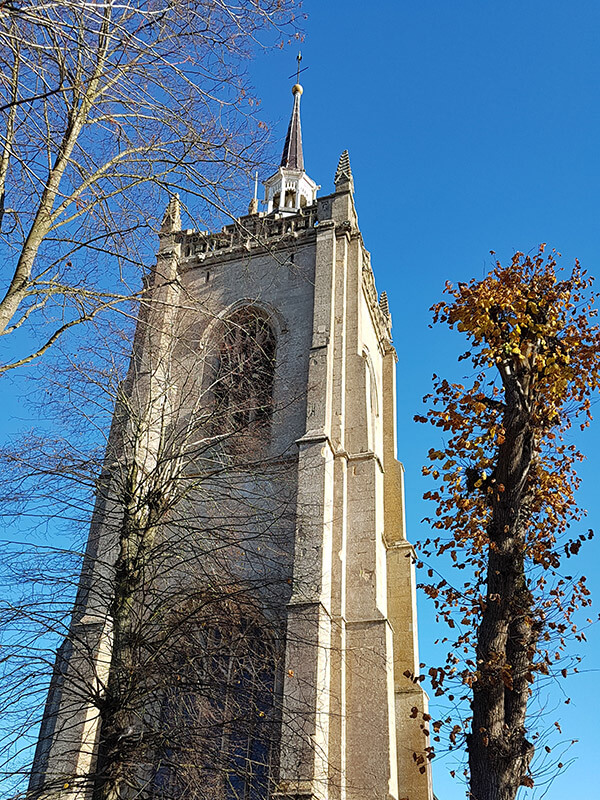 There was no church mentioned here in Saxon or early Norman times and the earliest parts of the present building date from the 13th century. But, as is common in most Medieval buildings, it has been altered and added to over the years. There was a lot of work in the 15th and 16th centuries, with the rebuilding of the Chancel in 1454, the construction of the North Aisle in 1462 and the commencement of building the Tower between 1485 and 1507.
Inside, there are some lovely stalls from the 16th century and some interesting memorials.  The famous Pedlar of Swaffham is depicted in several carvings and parts of his pew survive, showing how rich he must have been. The story is well known, but deserves to be retold below.
Swaffham town is steeped in history and many of the surroundings villages and towns have connections going back hundreds of years.
The church of Saint Peter and Saint Paul is one of only a few churches that have angels carved in wood instead of stone around the top of the walls. The current building, dating from 1454, is built on the foundation of the original church. There is always histroy to find in Swaffham.
For more history and for information on other historic places and locations in and near Swaffham, visit out History and Heritage page. 
History
The Pedlar of Swaffham
John Chapman had a dream telling him that he should go to London Bridge to seek his fortune. He went to London, (no mean feat in those days) where he hung around London Bridge, looking for his fortune.
He was becoming rather despondent when a shopkeeper asked him what he was doing, loitering about. When John told him that he was there to seek his fortune because of a dream, the shopkeeper scoffed at him and told him that if he had taken notice of one of his own dreams, he would be in a town called Swaffham in Norfolk, digging under a tree in the garden of a Pedlar, where there would be treasure.
At this, John hurried back to Swaffham and dug under his tree, where he found a pot of gold. A second pot was discovered later and John Chapman became a very wealthy man.
John grew very rich but, being a man of sound character, never forgot his duty or let his good fortune change him. John Chapman helped build up and repair the church at Swaffham and when he died, they put a statue of him in the church with his pack on his back and his dog at his heels. There it stands today.
It is thought that the pedlar, shown in the carving inside the church, was John Chapman. In around the 15th century Black Book (still in Swaffham Church Library), there is a list of the benefactors of the church; it records thatJohn Chapman paid for the new north aisle as well as contributing to the spire fund in 1462. 
Whether this story is true, we don't really know. But there was a John Chapman living in Swaffham in 1462. He was Churchwarden. He was also quite affluent, as he paid for the building of the North Aisle and South Porch. His pews, now part of Clergy Stalls, were very richly decorated.
Why not visit Swaffham and see for yourelf this history and when you are, don't forget to do some shopping and visit the market.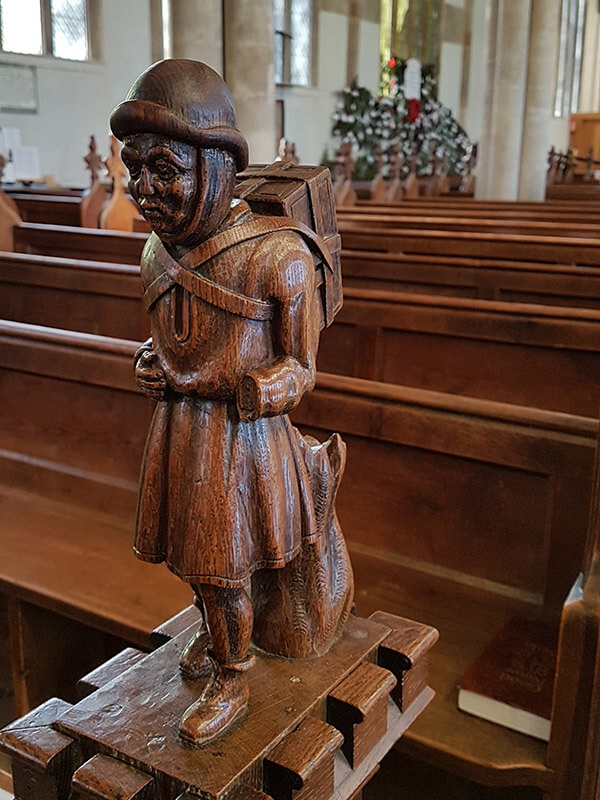 History
Swaffham's link to Tutankhamen
It was 4th November 1922 when a man from Swaffham was digging in the hot sands of Egypt. It was nearly the end of these explorations, as funding was being withdrawn, but the discovery of a step and then more steps, heralded some of the most exciting discoveries of the 20th century.
The tomb of Tutankhamen is well documented and needs no further description here. But the man who made this amazing discovery was from a well-established Swaffham family.
Howard Carter was actually born in London, but his grandparents lived in the town. His parents, Samuel and Martha, were both born in Swaffham. His father was an exceptionally good animal artist. After marriage, the couple moved to London, where Samuel exhibited and also worked for the Illustrated London News.
Howard's paternal grandfather was a gamekeeper and his maternal grandfather was a builder. Howard often visited his Norfolk family, so would have been very familiar with the town you can visit today.