Discover
east dereham
In the geographical centre of Norfolk, with easy access to the city of Norwich and the coast, Dereham is the perfect place to base yourself during your visit to Norfolk.
Things to do in Dereham
The cinema shows all the new releases and has even been frequented, a few years ago, by Prince Harry while he was at Sandringham.  There is a gym at New Revolution, the great puzzle at Puzzlescape, golf at Dereham Golf club and the famous Mid Norfolk Railway for a day out for afternoon tea or the polar express at Christmas.  Dereham Windmill is great for a visit and a snack.  The Old Dairy and Essence Foods at Stanfield has both a cafe and shop with jams, marmalades, mustards and chocolate spreads for sale
The Memorial Hall, Dereham Theatre Company, Dereham Town Band, The Blues Festival, The Antiquarian Society and several other local groups and societies keep the local social scene buzzing.
If you're looking to get out into the countryside, the Nar Valley Way and Wensum Way both pass nearby at Gressenhall. Hoe Rough and Scarning Fenn are also a great places to spend time enjoying the natural world.
Dereham has some interesting shops, cafes, jewellers and many other independent retailers, as well as several craft and specialist shops, well worth looking out for.  Dereham Market is held twice weekly, on a Tuesday and Friday, in the Market Place and Church Street. Dereham Market needs locals and visitors alike to support the twice weekly market so come along and help support your local market!
There are many cafes and restaurants that provides some great food and drink.  Tall Orders Coffee Shop is very popular as is Penelope's Cafe. 
We also have a large shopping centre in the heart of town, in Wright's Walk, with a range of national and local brands. Starlings Toys is great for the Kids.  
FREE parking for up to 3 hours. 
Have a stroll around Dereham and see what you can find!
There are several 16th and 17th century buildings in the town, the most striking being Bishop Bonner's Cottages with its beautiful frieze of applied plaster-work. It now houses the town's museum and sits just beside the churchyard, in the shadow of the Bell Tower.
For some great places to stay in and around Dereham; you can have Lodges at Yaxham Waters, self catering at Glendower House Apartments and a Hotel at Greenbanks Hotel Fransham but if its camping and glamping you fancy try Gorsey Meadow Campsite. 
Lots of Georgian and Victorian buildings survive in Dereham too. Hill House, at the junction of Theatre Street and Wellington Road, was the home of John Fenn (antiquarian). Although it appears to be Georgian, the facade hides an earlier house inside.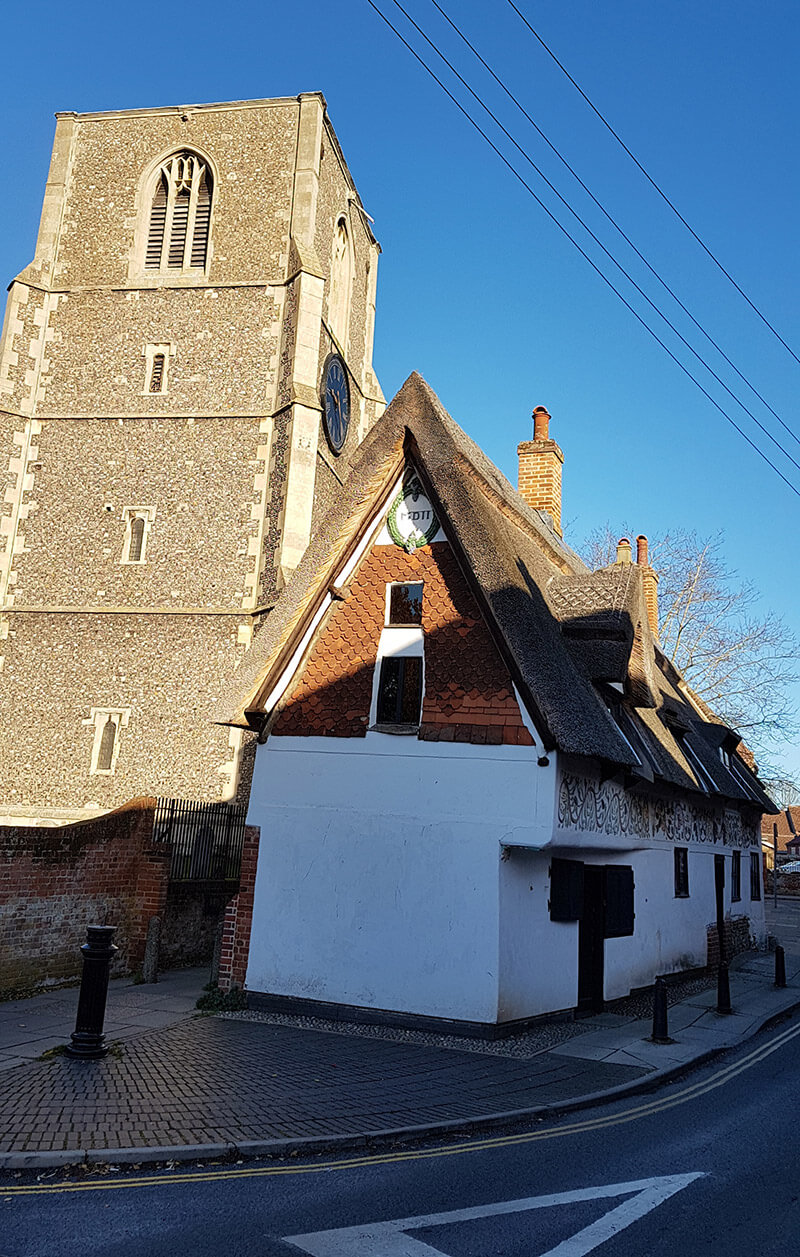 History
The History of Dereham
People have lived in the area for thousands of years – Stone Age artefacts have been found here. But in the town itself, there have only been a few finds of Iron Age or Roman date.
It was during the Saxon period that Dereham first starts to be anything like a substantial settlement. By the time the Normans arrived, Dereham was established and Saint Withburga was already a local legend.
Saint Withburga was a daughter of Anna, King of East Anglia. She founded a monastery at Dereham. During the building of the monastery, food was very short and, tradition has it, The Virgin Mary sent two deer to provide milk for the workers.
When Withburga died, she was buried in the churchyard. During a time of disagreement with Ely, her body was stolen and taken to the Cathedral there. The body, when stolen, was said to be uncorrupted. A sure sign of Sainthood! A spring appeared at the spot where her grave had been and it is still there today, at the western end of the Church.
So, there was a church in Dereham in Norman times. But, as with many early building which are still in use today, the Norman Church has been altered and added to over the years. There was a lot of work in the 13th, 14th and 15th century. The bell tower dates from the early 16th century and there was also work carried out in the 19th century, so it a really interesting building to investigate.